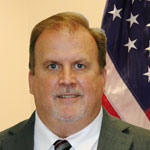 Dennis Miles
Community Director, Southeast & Southern Regions Department of Children & Families
Dennis Miles was named Regional Managing Director of the Southeast Region with Department of Children and Families on December 29, 2011.  The Southeast Region, which encompasses South Florida and the Treasure Coast, covers Broward, Palm Beach, Martin, St. Lucie, Indian River and Okeechobee counties.  Mr. Miles has been called on to lead several statewide projects through the years and has stepped in to lead both the Northeast and Suncoast Regions through recent challenges.  More recently Mr. Miles has assumed the role of Community Director for both the Southeast and Southern Regions.  The Southern Region covers Miami-Dade and Monroe counties.
Mr. Miles joined the Department in 2003 as a child protective investigator and worked his way up as a supervisor, program administrator, director of support services and director of family and community services prior to being appointed as the Regional Managing Director.  Previously, Mr. Miles was a career officer in the U. S. Marine Corps and served as a  Company Commander in the 3rd Assault Amphibious Battalion. Before coming to the Department, he also worked at the Palm Beach County Tax Collector's Office and in the financial services industry.
A long-time basketball coach in Palm Beach, Miles was the head coach of the Cardinal Newman High School girls' basketball team for 10 seasons and was named Palm Beach County Coach of the Year in 2015 and Conference Coach of the Year in 2016.   Miles led the girls' basketball team to the district championship game in 8 of his 10 seasons and won multiple district championships as well as their first regional championship in school history in 2015.    A proud Gator, Miles earned a bachelor's degree in Political Science from the University of Florida in 1985.