Resources for Children and Adults
Resource Type
Basic Needs
Emergency Response
Employment & Economic Development
Family Support
Financial Assistance
Health and Mental Care
Resource Topic
VIEW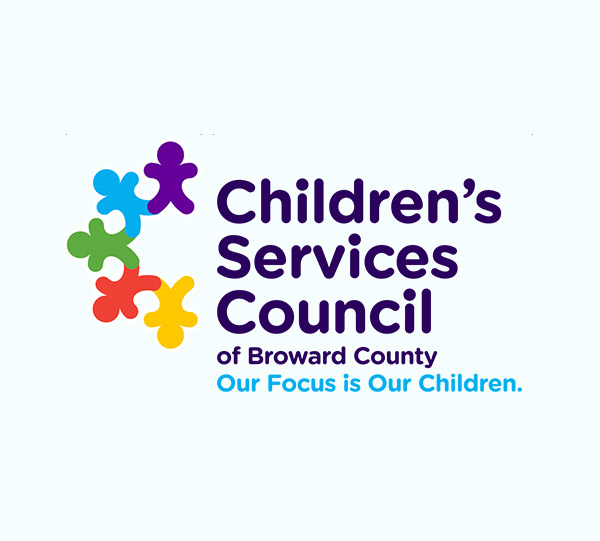 We at the Children's Services Council of Broward County care about the health and safety of our community, staff and providers. Accordingly, in an effort to help control the spread of the coronavirus (COVID-19), our offices will be closed until further notice. As staff works remotely, please be assured that we will continue to work diligently in support of the children and families of Broward and the child serving community. Please search this website and our social media platforms @cscbroward for continuous updates as well as resources and information that help our community more easily navigate these challenging times. If you need to reach us, call (954) 377-1000 or e-mail: info@cscbroward.org.  (Please note that many of these links will point away from the CSC's website to pages not necessarily affiliated with or endorsed by CSC Broward. The CSC cannot guarantee ADA compliance of the non-affiliated site.)
Need help finding resources? Dial 2-1-1 or (954) 537-0211 or Text Your Zip Code to 898211 (Website: 211 Broward)
Join our mailing list to receive the most current updates on activities and resources!
Health Services
Centers For Disease Control (CDC)
Centralized Intake and Eligibility Determination (CIED)
Child Welfare League of America Resources List
Community Mitigation Strategies
Coronavirus (COVID-19) assessment tool
COVID-19 and Potential Risks for People Who Use Drugs
Crisis, Health & Human Services Support, 211 Broward
Florida Department of Health COVID-19 Toolkit
Free Virtual Doctor Visits from Memorial Healthcare
KidCare Health & Dental Insurance Updates: English/Spanish
Memorial Healthcare System Updates & Information
Red Cross Immigrant COVID Information English/Spanish
Resources for Assistance with Funeral Arrangements
Symptoms and Coronavirus Self-Checker — CDC Website 
How to Safely Wear and Take Off a Cloth Face Covering
Emergency Services
Dial 911
National Domestic Violence Hotline: 1-800-799-7233
Reporting Abuse During COVID-19: Individuals/Educators/Caregivers
(Report Child Abuse: If you know, suspect or someone tells you please call: 1-800-962-2873)
Mental Health Resources
60 Digital Resources for Mental Health
Broward Schools Mental Health Services
Broward County Schools Crisis Support (Resiliency Center)
Behavioral Health Associates: Free Virtual Pandemic Support Group
Crisis Text Line: Text CONNECT to 741741.
Grief Support Groups & Forum: For anyone that has experienced a loss, this online Grief Support Directory is organized by types of loss with an extensive range of resources and supports available locally, on-line, virtually in-person and even internationally.
National Suicide Prevention Lifeline: 1-800-273-TALK (8255)
Mental Health America Hotline: Text MHA to 741741. You can also call 1-800-985-5990 or text "TalkWithUs" to 66746 at the SAMHSA Disaster Distress Helpline.
Nation Alliance on Mental Illness (NAMI)
Staying Emotionally Close In The Time of COVID-19 (feat. Dr. Bruce Perry), The Trauma Therapist Podcast
How to Care for Yourself While Practicing Social Distancing
How Do I Know Someone is Experiencing Anxiety or Depression
How to Help Someone With Anxiety or Depression During COVID-19
How to Support a Loved One Going Through a Tough Time During COVID-19
How To Protect Your Mental Health During The Coronavirus Outbreak
Help Your Family De-Stress During Coronavirus Uncertainty
How to Help Children Manage Fears
Healthier At Home: a free, private online group for pregnant women and parents of young children living in Broward County.
How Mindfulness Can Help During COVID-19
How to Avoid Passing Anxiety on to Your Kids
How Anxiety Leads to Disruptive Behavior
Mindset RESET w/Sean Achor: a four-part series specifically focused on helping us adjust our mindset in this current climate.
Panic Attacks and How to Treat Them
Self-Care in the Time of Coronavirus
Sleep Strengthens your Defenses
Anxiety and Coping With the Coronavirus
United Way Mental Wellness Tips
What to Do (and Not Do) When Children Are Anxious
Anxious Stomach Aches and Headaches
More Mental Health / Grief And Trauma Resources
Food
Together4Broward (Together 4 Broward continues to identify new partners in this community effort and welcomes your support, engagement, and donations. To join the taskforce, please submit your information via the link Join Together 4 Broward.
Broward Community Feeding Initiative App
Broward Schools Grab-and-Go Meals
Free Lunch From Christian Life Center and FLIPANY
Free meals for kids and teens (or Text FLKIDSMEALS to 211-211)
LifeNet4Families: Support for families experiencing food shortages during COVID-19
Neighbors4Neighbors Food Distribution Locations
P-EBT (Pandemic Electronic Benefits Transfer)
Salvation Army of Broward County Food Distribution
SNAP (Supplemental Nutrition Assistance Program) Benefits
Area Agency on Aging – Meals for Seniors
Broward Schools
Broward Schools Free/Reduced Meal Services
Broward County School eLearning: (or call 754-321-0569)
Internet
Comcast offers to help University Students stay connected for the school year
Oral Health and Hygiene
Home Therapy
Autism Society At Home Resources
Hi-Ability Therapy Services OT, PT & Speech Resources
Physical Fitness at Home
David Posnak Jewish Community Center FREE Exercise Videos
Legal Services & Advice
Co-parenting in the coronavirus pandemic: A family law scholar's advice
How to avoid COVID-19 government imposter scams
Bills and Small Businesses
Consumer Financial Protection Bureau
Consumer Financial Protection Bureau: Helping Consumers Claim their Economic Impact Payment
Coronavirus-related paid leave for workers
Rental Assistance & Housing
Eviction and Foreclosure Moratorium
Protections for renters during COVID-19
Reemployment/Unemployment
Dislocated Worker Program (Temporary Employment)
Reemployment (Paper Applications)
Children & Families
Florida Department of Children and Families
Reporting Abuse During COVID-19: Individuals/Educators/Caregivers
Create Structure at Home for Children with ADHD
Child Care Options
Child Care Map & List (or 754-321-3330)
Adult Education
David Posnak Jewish Community Center Adult Arts & Culture
Learn to EarnToolkit: online resource for intermediate and advanced adult learners of English and basic skills
Special Populations
FLITE Center TIL System of Care Youth
National Disability Institute Takeaways from the Coronavirus Aid, Relief and Economic Security (CARES) Act and Family First Response Act
First Responders
ELC: Emergency Personnel Child Care Scholarship
Other Resources
Florida Driver License Renewal
Aunt Bertha: connecting people with local nonprofits offering social services
Elder Affair's Elder Helpline:1-800-96-ELDER (1-800-963-5337)
To apply for food assistance, Medicaid, and/or cash assistance, or to manage your benefits and receive information, visit www.myflorida.com/accessflorida or login to your MYACCESS account 24 hours a day, 7 days a week.
Safety Guidelines and Resources
BRHPC: How to Safely Wear and Take Off a Cloth Face Covering
COVID-19 information and resources for schools and school personnel from US Department of Education
EPA Effective Disinfectants List
FL Dept. of Health: Safety Guidelines for various Reopening of Activities and Businesses
Guidance For Cleaning & Disinfecting