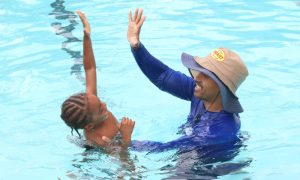 The Water Smart Broward website is currently experiencing technical difficulties.  In the meantime, if you would like to apply for swim coupons, please follow the instructions below.
Child's Full Name
Full Address
Date of Birth
Email Address
Phone Number
---
If an adult coupon is requested:
Full Name
Full Address
Date of Birth
Email Address
Phone Number 
---
The Children's Services Council of Broward County has partnered with Broward County's SWIM Central program to provide a coupon with a value of $40 to help off-set the cost of swimming instruction for children and their families.
The child must be older than 6 months and younger than 8 years of age. (6 months-8 years old)
Each child will need their own coupon and may only use one coupon per fiscal year (October 1st thru September 30th).
Coupons are available only to Broward County Residents. The address provided must be a residence in Broward County (Commercial or Business addresses will not be accepted) Please include apartment numbers when applicable.
Coupons expire 100 days after their issue date.