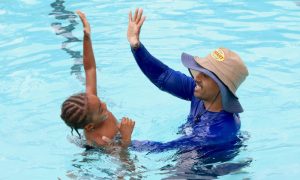 Drowning is the leading cause of injury death to children from 1 to 4 years old. The majority of children who drown in home pools were not expected to be in or even near the pool. Most children who drown in a home pool enter the water without the knowledge of their parent or caregiver. Children need capable, close and constant supervision, especially toddlers who easily and quickly leave a safe, supervised area unnoticed.
Water SMART Broward Swim Instruction Coupon
SIMPLE STEPS SAVE LIVES
The loss of a child is devastating to parents, siblings, grandparents, relatives and to a community. Drowning is almost always preventable with simple steps.
Parents need to talk to their child about water safety.
Here are Some Ideas to Start With:
1. "Don't go near a pool without an adult." This is the most important water safety conversation to have because it is so simple.
2. "If you see someone struggling in the water, don't jump in to help. Run and get an adult. And if you fall into a pool, don't panic, turn around, find the wall, and climb out or yell for help." Practice this skill in the pool with your child. Have the child practice wearing clothing to experience the sensation.
Remember Water Safety
• It Can Happen to You. Many parents who lost a child to drowning never considered that their child could be at risk; they just didn't realize how close the danger was.
• Take ownership of your child's safety. Never rely on responsible behavior from your child, another child or other adults. Know who is watching your child when you can't be there.
• Don't Multitask. Pool time means your full attention IS needed to properly supervise. Drowning happens quickly; most children die who are under water for as little as 6 minutes.
• Have a response plan. If your child is missing, check the water first – whether it is the pool, lake, canal or tub. Know CPR. Remember: Children who drown do not scream, splash or struggle. They silently slip beneath the water, and usually with a parent nearby. Designate yourself or an adult supervisor to act as a Kid Watcher regardless of whether the water nearby is an ocean, lake, water park, pool or bathtub.
These multiple layers of protection can help prevent childhood drownings:
• Install Child Proof Doors And Locks On All Interior Doors Environments
> Door handles should be 5 feet above ground level
> Always keep locked
• Install Alarms on Access Doors to Pools, Spas, and All Water Environments
> Do not deactivate alarms
> If the alarm can be temporarily tor an adult to open the door, the deactivate button should be out of children's reach
• Install 4-Sided Isolation Fencing Separating The Pool And/Or Backyard Lake From The Home And From All Entrances
> Always leave the barrier in place when the pool is not in use
> Gates should be 5 feet tall, self-closing and self-latching
• Install A Floating Pool Alarm
> Do not deactivate alarm
> Consider having the pool alarm connected into your home alarm
• Learn CPR And Rescue Techniques
> Anyone over age 14 in your home should have CPR training
> Babysitters and caregivers should also be trained
> 911 dispatchers can give CPR instruction over the phone
CPR Classes Available at the Following Locations:
Broward Health 954.759.7400
Coral Springs Fire Academy 954.346.1774
American Heart Association 1.800.242.8721
American Red Cross 1.800.RED.CROSS
Memorial Health 954.265.0994
Community Education
Contact the following organizations to bring life-saving education to you and your neighbors, your community organization, your workplace or place of worship:
Swim Central 954-357-SWIM
FL Dept. of Health in Broward Drowning Prevention Task Force of Broward County: 954-467-4700 x 5807
Pediatric Angle Foundation www.pediatricangel.org
Water Smart Broward www.watersmartbroward.org
Children's Service Council of Broward County: 954-377-1000
2-1-1 Broward: Dial 211 or visit 211-broward.org
Water Smart Broward is a collaboration between Children's Services Council of Broward County, Pediatric Associates Foundation and Florida Department of Health in Broward County. For more information on how they are working to reduce the incidence of fatal and nonfatal drowning among children ages 1-4 in Broward County Municipalities, go to www.watersmartbroward.org